Clarke &

Humel's

Northern Beaches Market Review 2018 and Forecast for 2019

"Where is the property market at right now?" "By how much did it increase last year?" "How did the market perform this year?" "Why have the market conditions changed?" "Where is the property market heading next year?" These are the questions we are repeatedly asked in the lead up to Christmas each year. We hope to provide some useful answers in the market review that follows.

Given the media sensationalism over the past few months, we have tried to be as thorough as possible to provide some clarity on our beloved Northern Beaches market so you can make more educated decisions in the year to come!  
 
In a year that has seen the real estate market move south for effectively the first time since the GFC in 2008, the media has been rife with reports and speculation on how it has impacted Sydney's property prices. The main catalyst for change was the announcement of The Financial Services Royal Commission into banking in November 2017, which saw the banks react immediately by tightening their lending criteria, effectively leaving buyers with less money to spend.  
 
The results of our findings are truly intriguing and make for compelling reading. With the exception of a few anomalies, all suburbs recorded gains in median prices last year, up to 20% in some cases. Some suburbs have maintained growth this year and others have recorded falls in the vicinity of 10%.  
 
Rather than generalise, we've tabled the market statistics for you to digest, comparing the median prices from the beginning to the end of 2017 and from the beginning of this year to now. The analysis includes both houses and apartments and it's been broken down suburb by suburb so you can see what's happening in your area and compare it with the neighbouring suburbs.
 
In addition, we've sourced the latest predictions from leading property forecasting companies and then we round off with a final word from Clarke &Humel Principals, Michael Clarke and Cherie Humel on how this may relate to the Northern Beaches market.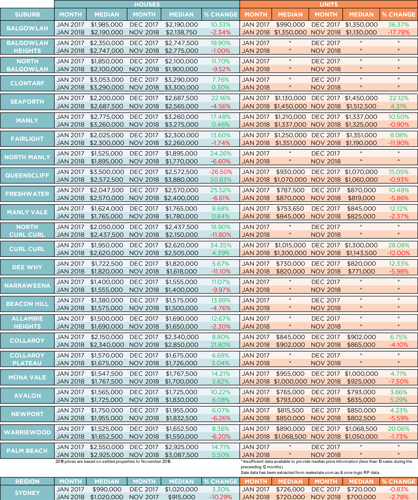 Analysis of Data
 
The Northern Beaches as a whole has echoed the downturn in prices felt across Sydney. Regional centres such as Manly, Mona Vale and Avalon have continued to show growth this year whereas suburbs that rose most dramatically last year, in most cases suburbs on the periphery of the major centres, that were benefitting from a flow-on effect, are the ones that have corrected the most this year. In some cases, prices are more or less back to where they were at the beginning of 2017. The median prices recorded are tallied from settled sales i.e. 6-8 weeks from the point of sale, therefore it's important to consider the data is up to two months behind what is happening at the coal face – where our agents are continuing to see the effects of a transitioning market.
 
* Queenscliff's median house prices showed significant movement that is out of line with everything else. This is due largely to having few houses in the suburb and subsequently a low volume of sales i.e. a couple of headland sales can send the median soaring.

Conditions affecting the market
 
Prices have risen anywhere up to 100% in the last four years with some suburbs recording rises of up to 25% last year. The market could not sustain this rate of increase indefinitely, so this market correction is one that was inevitable.  
 
The four main driving factors have turned the market this year -
Tightening on lending by the banks

Increase in supply by vendors anxious to capitalise on the recent boom

Fewer investors due to difficulty in securing interest only loans

Record household debt
The media is comparing this market to 1988/89 where prices dropped dramatically. In 1988/89 the economy went into recession, the stock market crashed, unemployment was high, job security was poor and interest rates soared to 19%. We're not facing anything like that now, the economy is strong and interest rates, along with unemployment, are low. So the more sensational commentators' predictions are to be taken with a grain of salt.
 
Where to in 2019...
 
Predicting the real estate market is not unlike forecasting the weather. There's talk that the market has another 5-6% to correct and others reporting it will level out next year. With nothing like the adverse economic conditions experienced in 1988/89, we subscribe to the latter theory.
 
Michael Clarke & Cherie Humel
 
Nothing lasts forever and unfortunately (for vendors, at least) the rise in real estate prices on The Northern Beaches could no longer be sustained. The banks tightening on lending has been the major driving force behind the market correction, but in real terms, it is a sensible and logical move. By enforcing responsible banking, it will protect consumers from going into unsustainable debt and sure up the sustainability of the property market over the mid to long term.
 
The statistics tabled in this report are derived from settled sales. The average property takes 6-8 weeks from point of sale (exchange) to settlement, so it's a little behind what is happening in real terms. From what we've experienced in October and November, the statistics may indicate further marginal falls in prices in the coming months as those settlements occur, however, the prices are also being affected by what is more or less a false market. There are plenty of buyers out there, but a lot of them are adopting a "wait and see" approach and erring on the side of caution. We've found this type of buyer will commit if you lead them to the right home and manage the process carefully, so maintaining an up-to-date buyer database, and choosing an agent with experience in selling in tougher environments is key in this market. Vendors conscious of the transitioning market are still selling and agents who are prepared to actively work their buyers and put in the extra effort required are making sales and continually maximising price.        
 
In real terms, it seems prices will either steady or fall marginally next year until there is greater certainty as to the impact of the Royal Commission, and when the 2019 Federal election has been decided. On the upside, interest rates are still at an all-time low and there are more people moving into Sydney than they can build accommodation for, so simple supply and demand suggest the market will rebound – it's just a case of "when" – not "if".
 
A client once exclaimed "They're not building any more beaches, so we'll always be right" and over the longer term, that has proven to be a great truism! The Northern Beaches are - through our rose-coloured glasses at least – unquestionably the finest in Sydney and offer families a lifestyle that is second-to-none. With new improved infrastructure that includes the Northern Beaches Hospital, B-line city bus service and impending Northern Beaches tunnel, demand will further increase and prices in the region will continue to outperform the rest of Sydney.
 
During a year of change in the real estate market, Clarke & Humel have moved with it, embraced the transition and evolved. We have also implemented effective strategies that we have used at different stages over the past 15 years to ensure our clients are receiving the best possible service and advice.
 
We are fortunate to have continued our record run of results and are delighted to report that we are the number one selling agency in our core areas of Manly, Freshwater, Balgowlah Heights, Clontarf, North Curl Curl, North Manly and a host of other suburbs relating to average sale price, recommendations or total sales price*. We were also humbled to achieve 2nd in Australia in the top 100 agents ranking for 2018 (making this the 4th consecutive year where we were rated as the highest ranked agents on the North Shore of Sydney – something we could not have achieved without the massive support of the local community – thank you!!
 
So, here's to 2019 where we believe we'll have a more level playing field for buying and selling and more stability in both pricing and activity than the year just passed. As ever, if we may be of any assistance with your buying, selling or property management needs, we would be delighted to help!
 
Take care over the Christmas and New Year period and we look forward to another stunning year in 2019!